Essential oils are naturally occurring aromatic compounds found in the seeds, roots, stems, bark, leaves, flowers and fruit of plants; they can be both beautiful and pungent fragrances and give plants their distinctive smells. The specific aromatic properties of essential oils are what makes plants attractive to insects and animals so they play an important role in plant pollination. The smell of essential oils can also act as a natural deterrent and, as they contain antimicrobial, antiviral and antifungal properties, they also play a role in protecting the health of plants.
But the benefits are not confined to plants; essential oils have been used in health care, food preparation, beauty treatments and religious ceremonies since 4000BC. In ancient times plants were the only available medicine and they were used in a wide variety of ways. So making use of nature's own "medicine cabinet" is a no-brainer for someone like me, looking for natural solutions to health care whenever possible!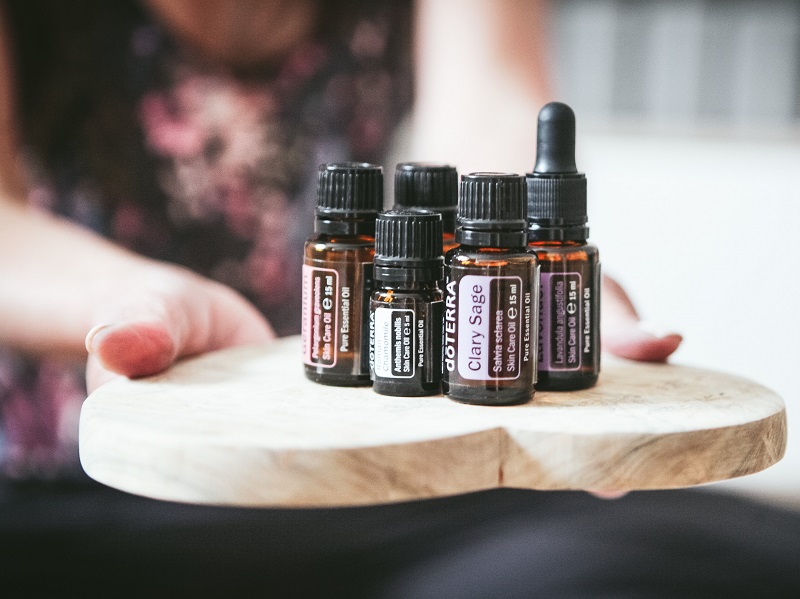 Benefits of using essential oils
I've been using essential oils for as long as I can remember; tea tree oil is really the only antiseptic in my first aid kit and, after living amongst the lavender fields of Provence over a decade ago, lavender is one of the most ubiquitous cleaning products in our household.
I use essential oil blends as insect repellent, eucalyptus oil to help me breathe when I have a cold, and put orange or lemon oil in a diffuser to freshen a room and lift my mood.
I have also found that essential oils have helped me when I've suffered from viral infections making them a powerful asset indeed!  Essential oils can also aid digestion, lessen pain, boost mood and memory, decrease inflammation and support a healthy immune response.
So you can see there are many beneficial uses of essential oils, which is why I use them and advocate their use; these are my top five uses.
As a natural antiseptic to clean cuts, grazes and skin infections
For household cleaning, including freshening up my yoga studio
In cooking- yes really!
To promote better sleep
For treating colds, especially sore throats and congested sinus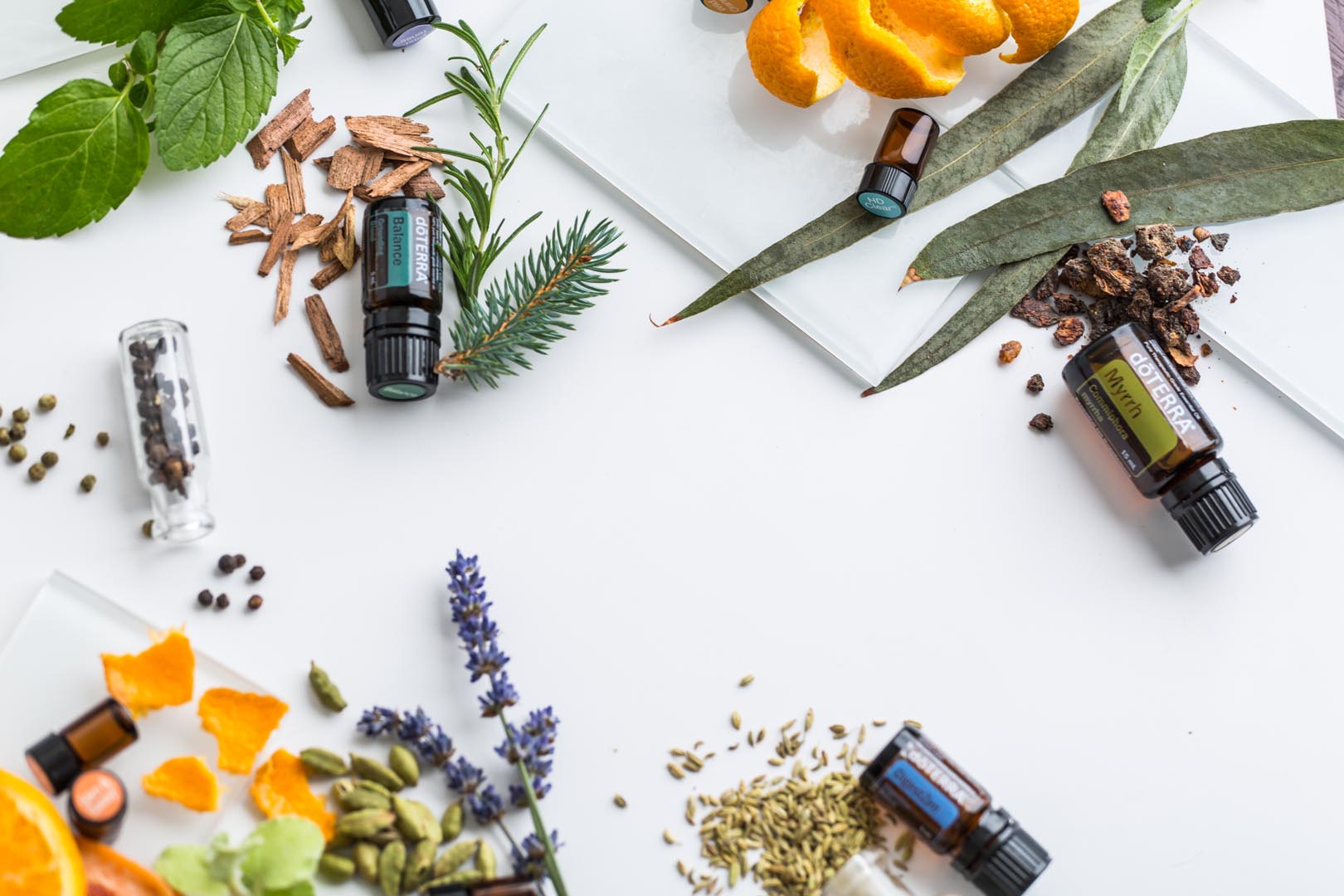 How do you use Essential Oils?
Essential oils can be used a single oil or as a blend; blended oils are normally combined with other, compatible oils for a specific therapeutic purpose. The three main ways of using essential oils are aromatically, topically and internally.
Aromatically
Most people are familiar with this method, which is essentially inhaling the aroma from the oil. Either put a few drops of oil in a diffuser or a facial steamer and inhale the mist or inhale directly from the bottle. This is the best way to use oils when looking to improve mood and encourage positive emotions; our sense of smell is closely tied to the area of the brain which controls emotions and long term memory. Inhaling certain essential oils can also be a great way to open the airways in order to alleviate respiratory difficulties associated with allergies or even a cold virus.
Topically
This involves applying diluted oil (using a carrier oil such as coconut oil) directly to the skin so it can permeate into the bloodstream and travel around the body. The therapeutic benefits are therefore not only at the site of application but throughout the entire body. Using oils topical can be hugely beneficial for skin conditions as well as muscular and joint pain.
Internally
I've always been a little bit terrified by the thought of taking oils internally and used to be concerned if I accidently swallowed some tea tree gargle but since I've started working with DoTERRA oils my confidence has grown and I now know that DoTERRA produce extremely pure oils, many of which are safe for internal use. DoTERRA produce oils that can be used to cook with; I particularly love the orange oil and the oregano. Plus there are a number of oils that can offer real support to those suffering with digestive issues and taking these oils internally offers the most effective therapeutic benefits. Oils can be blended with a good quality oil such as extra virgin olive or avocado. Alternatively, it is easy to make your own vegetable capsules, mixing the oil or oil blend with a carrier oil such as fractionated coconut oil.
Why doTERRA?
When I lived in Provence I became totally fascinated by lavender; we arrived in July and the surrounding hillsides were all purple!  Eager to learn more, I visited a local farm and distillery where I learnt that the quality of even extremely pure essential oils can vary, depending on the growing altitude, the time of day it's harvested, harvesting method and the duration of distillation.  It became obvious to me that every step of the production process is critical in determining the overall quality of the essential oil.   After returning to the UK it was difficult to find the same quality of oils as I'd enjoyed in southern France.  As there is no overall industry regulation, an essential oil can be labelled as "100% pure" but still contain fillers and impurities; this means there are many poor quality oils out there!
doTERRA's vision, when they founded in 2008, was to supply the purest, most potent essential oils in the world.  To ensure this, they rigorously test their oils to guarantee they are Certified Pure Therapeutic Grade (CPTG); meaning they are undiluted and pure; free from artificial ingredients, fillers, contaminants, pesticides or other chemical residues.
Worldwide Sourcing & Mutually Beneficial Partnerships
Being able to completely trust not just a product but also a company is massively important to me and doTERRA definitely tick both boxes.  doTERRA Source 130 oils from more than forty countries worldwide, ensuring that the oils come from plants that are grown where they are meant to grow and managed by experienced farmers and distillers.  doTERRA works with many developing countries and has developed long term, mutually beneficial partnerships; creating sustainable jobs and providing reliable income in underdeveloped areas.  Find out more here.
Day & Date
Class info to go here 
Day & Date
Class info to go here 
Day & Date
Class info to go here 
Day & Date
Class info to go here 
More info to go here if needed.
So now you can't wait to get your hands on doTERRA oils and  start reaping their benefits?
Well you are in the right place; the most cost effective way for you to purchase doTERRA oils is to open a wholesale account with me. This will give you  25% off your oils – this is how I get the oils myself.  However, there are a number of ways in which you can work with me and doTERRA so for more information or to signup, please email me and I'll take you through the options and explain the best way to get started.  You can rest assured that there's no minimum monthly spends or pressure to become a Wellness Advocate.  I will help you find the option that is going to suit you best. 
Upcoming Essential Oil Classes