Last week one of my "green-fingered" students gave me two enormous bags of runner beans.  I'm a little ashamed to say that I'd never eaten runner beans before, but in this past week I've made up for that!  I've cooked them in mild spices, added them to a tofu stir-fry and steamed them before adding a little zhoug.  Also, just before making this risotto, I tried a similar combination of flavours but using earthy Puy lentils and quinoa for the "risotto" base.  Day six on the runner beans and this is my favourite of all the recipes, so of course, this is what I'm going to share.  Enjoy!
Serves 2
1 tbsp. butter or olive oil

3-4 cloves garlic

5-6 runner beans, finely chopped

250g cooked wholegrain basmati rice

1 small courgette, diced

Zest of 1 lemon

Juice of ½ lemon

1 dsp. coriander seeds or 1 tsp. ready ground

1 dsp. cardamom seeds

2 handfuls of hazelnuts

Fresh coriander, roughly torn

Sea-salt & freshly ground black pepper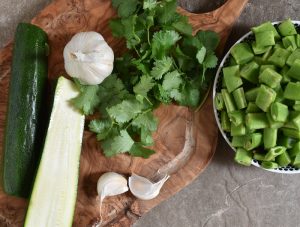 Start by roasting the hazelnuts in a medium hot oven for around five minutes or until they look golden.  Leave them to cool and then slice in half.
Next remove the seeds from around 10 cardamom pods (around a dessertspoon full); either add them to a coffee grinder and whizz until finely ground or grind using a pestle and mortar.  I actually normally grind batches of cardamom in my coffee grinder and keep a little jar in my spice cupboard.  Use 1 generous teaspoon for this recipe.  Grind the coriander seeds next or use 1 teaspoon of ground coriander.
Melt the butter in a frying pan with a well-fitting lid. Keeping a medium heat, add the garlic and cook gently, stirring occasionally until it turns pale golden.  Next add the ground coriander and cardamom seeds, stirring into the melted butter until you have a paste. Add the vegetables and stir well until all the vegetables are lightly coated in the spice butter.  Add the cooked rice (I used a pouch for speed), the lemon juice and 60ml of boiling water.  Turn the heat up, put the lid on and leave to simmer for 3-4 minutes.
Just before serving, season well, stir in the lemon zest and then sprinkle with the fresh coriander and finish with a scattering of hazelnuts.  I served the risotto with a fan of avocado and super-fine asparagus.