I know that meticulous planning and preparation for special yoga events is only a tiny part of "getting it right" and the rest is down to social "alchemy"; so I know there must have been a true alchemist working in the background on Saturday! I felt blessed beyond belief to spend a day surrounded by incredibly generous souls, prepared to share their wisdom and warmth without reserve.  We were a full house and a really broad mix of ages and experience – thank you to all of you for making this such a special day.
Following introductions, we jumped straight onto our mats for a warming vinyasa flow sequence.  Starting off by deepening and lengthening our breathing before aligning movement with breath; creating a rhythmic flow aimed at pacifying "Chitta Vritta" or the constant "chattering of the mind".  Allowing our breath to guide us, we progressed to longer, more dynamic sequences moving in a continuous flow that kept us on our toes as we started to build warmth and more fluid movement.
This was a long sequence, n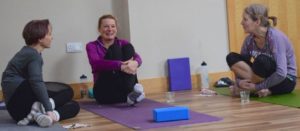 early two hours so it was followed by "Tisane Time" – on offer were a selection of herbal teas and some healthy treats.  There was time to chat and there were some questions for me to answer too including some about the the 7-day menu plan I'd sent out before the event.
Next up was the second yoga session of the day; a shorter session but with some powerful body-sculpting and fat-torching sequences targeting the upper body, abs, butt and thighs – the "boot-camp" bit!  Nervous beginnings were replaced by an intrepid mood– perhaps inspired by visualising the fierce warrior goddess, Kali!  Soon the room was filled with determined effort (and sweat!).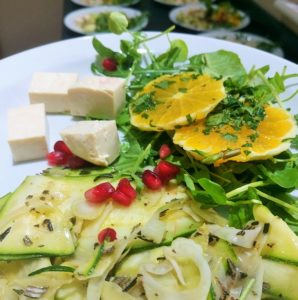 Afterwards everyone was ready for lunch so after a chance for everyone to don clean yoga attire I served up a smorgasbord of plant-based treats (all gluten and dairy free); the platter included courgette and fennel in a rosemary-marinade, mint infused orange, smoked tofu, spice-toasted pumpkin seeds, sprouted seeds & watercress.  All was well received – plates came back empty and there were plenty of requests for recipes (they'll be on the recipe blog very soon).  After lunch we gathered round in a "sharing circle" and I led a group discussion on "Creating your own rules so you can march to the beat of your own drum!"  I shared some of the many experiences that have given me the confidence to "do things my way" and there were plenty of wise thoughts shared from others too.
As ever, the day went so fast and already it was time to get on our mats one more time for the final calming session; with more mellifluous music setting the tone we took our time to move more deeply into poses and create space to turn our thoughts inwards too.  With the year ahead of us it seemed appropriate to renew our commitment to self-care; part of this is bringing awareness to our intrinsic nature and allowing our "inner guru" to guide us.  Slowing right down towards the close, effort was replaced with blissful relaxation and stillness.
My stated aim that everyone should leave feeling "rested and restored" might not have been quite the description I'd have used in retrospect but everyone did leave smiling, with a little bag of treats, including some artisan muesli from Lakeland Mues and a copy of Om Yoga Magazine to curl up on the sofa with!