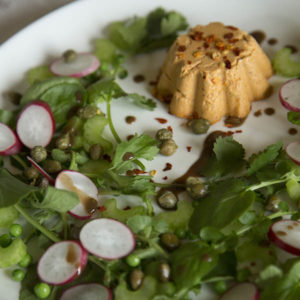 Dairy free cheese options often taste a bit bland and have either a rubbery or sticky texture.  Living with a dairy intolerance for more than 15 years has been the driver for me exploring ways to create something delicious for me when everyone else is tucking into the cheese board!  I've used nutritional yeast, which is inactive, to give this recipe an almost "cheesy" flavour.
Ingredients:
150g cashew nuts

1tsp. rose harissa paste

1tbsp. white wine vinegar

1 tbsp. nutritional yeast

1/2 tsp. sea salt

½ tsp. chilli flakes
Soak the cashew nuts in cold water for 3-4 hours and then drain and rinse them.  Add the nuts and all the other ingredients to a high performance blender (e.g. Vitamix) and blend until you have a smooth mixture.  Spoon into moulds or roll into a log and chill for 2-3 hours.